Jovi was brought to a local veterinary office, by a gentleman that had found her with her eyes alr.ea.dy rup.tur.ed, probably due to untreated infection, possibly due to trauma.
Two of the vet techs at that office offered to fund her surgery and medical care if Pet Helpers could foster little Jovi and find her an appropriate Forever Home.
"She had her surgery for bilateral enucleation (surgical removal of both eyes) October 15 and did well, coming to foster with me October 17. She was discharged with liquid pain medication and liquid oral antibiotic twice daily," says foster mom, Mim …
"I was a little fearful of my ability to provide her with appropriate care since I have never fostered a blind animal."
"This little kitten has amazed me from day one! She steps slowly and deliberately, using her feet to sense her location as well as her whiskers. She uses her litterbox faithfully, is eating and drinking water like a little champion."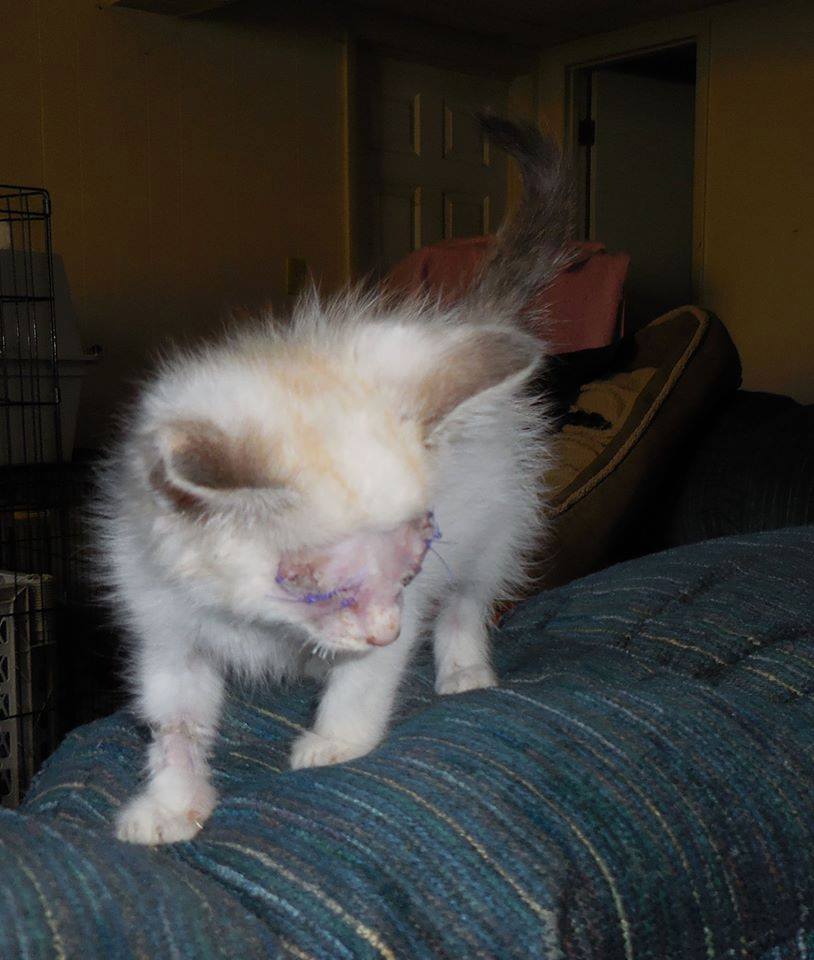 "Even though she is thought to only be around 5 weeks old, she doesn't much care for kitten milk replacer, so is eating kitten canned food as well as hard kitten food. I have her set up in a medium size wire crate with a "second floor" to give her more room."
"I knew she wouldn't be able to see the second floor or jump up on it to utilize her extra space, so used a corrugated scratching board as a ramp for her to use. Within 24 hours she had mastered going up the ramp. I would talk to her and walk her down the ramp and after just three times, she mastered the down maneuver as well. She now freely goes up and down the ramp with confidence. She began playing with toys two days ago, all of her toys are "noise" toys, ones with bells or jingles so she can find them."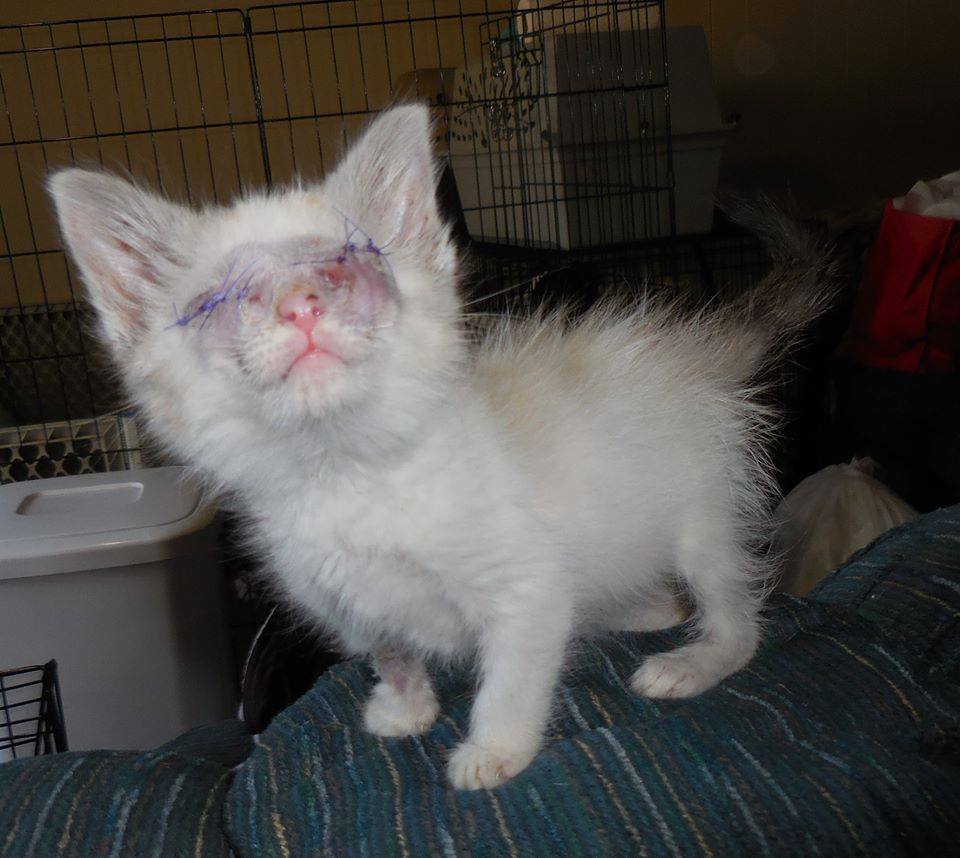 "She raises her head when she hears her name, will stand up as soon as she hears the crate being unlatched as she already understands something is going to happen. She loves to be brushed with her own purple human toothbrush; I've read that a toothbrush feels like a mother cat licking a kitten, tried it with Jovi and from her reaction it is a success," said Mim.
Jovi's story and photos have touched us so deeply, we wanted to share her story with all of you. What a gorgeous, little angel!
She is currently under the care of Pet Helpers, Inc
If anyone has any questions about Jovi or would like to just send some love and prayers her way, send an email to information@pethelpersinc.org
Please 'SHARE' to pass on this story to a friend or family member.